UTS Transport and Artificial Intelligence Research Forum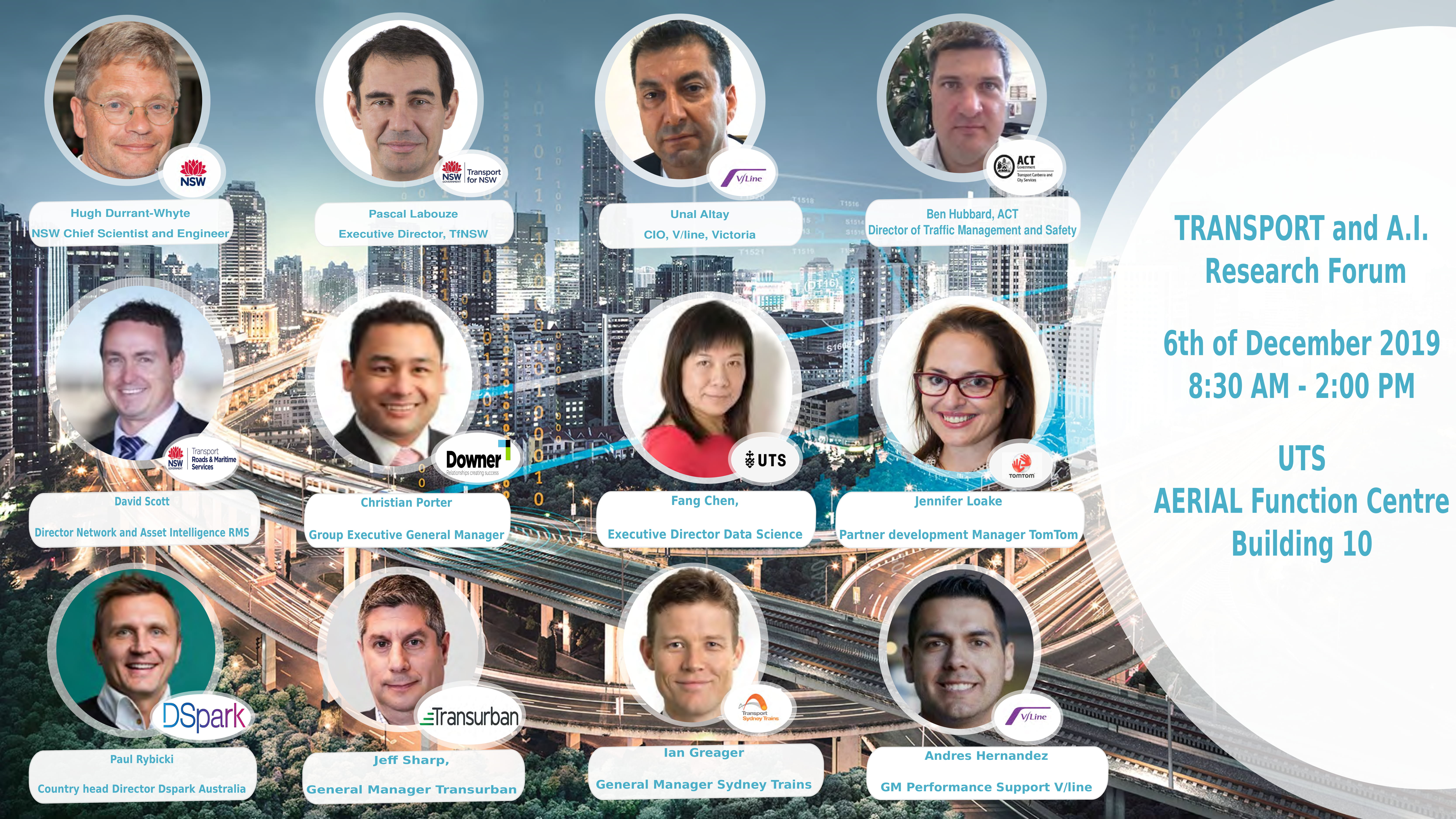 Join our inaugural event highlighting Artificial Intelligence solutions for transport. Click here to register.
Data-driven artificial intelligence has become an important part of modern decision making processes, including in transportation, where the abundance of data represents a challenge for transport agencies and research scientists alike.
The objective of this Research Forum is to link government, industry and academic professionals who are interested in or delivering innovative data-driven, artificial intelligence and/or cloud-based solutions to emerging transport problems. Together, we will explore the practical use of cutting-edge technologies to deliver efficient, evidence-based transport planning for Australia.
Key questions that will be explored in the Forum include:
How can we predict traffic congestion in advance of city grid lock?
Can we predict the impact of traffic disruptions and test relevant action plans?
Can data be used to model public transport delays and optimise daily operations?
How can data and artificial intelligence guide people towards selecting optimal routes and modes for travel?
How can analysing crowd movement data assist in developing better traffic and transport management solutions?
Places are limited, please register to confirm your attendance 
Date and Time:
Fri., 6 December 2019
8:00 am – 2:00 pm AEDT
Event Schedule:
08:00 AM - Guests arrival and Breakfast
09:00 - 10:30 AM (1h 30')
Session 1: Transportation Research meets government – presentations and panel discussion

09:00 – 09:15 AM: Hugh Durrant-Whyte – NSW Chief Scientist and Enginee
09:15 – 09:30 AM: Fang Chen – Executive Director UTS Data Science
09:30 – 09:45 AM: Pascal Labouze - Executive Director Operational Systems at Transport for NSW
09:45 – 10:00 AM: Unal Altay (CIO) & Andres Hernandez (GM Performance Support) V/Line Victoria
10:00 – 10:15 AM: Ben Hubbard - Director of Traffic management and Safety, ACT government
10:15 – 10:30 AM: Jeff Sharp - General Manager, Technology Partnership & Innovations, Transurban>

10:30 - 11:00 AM Morning tea break
11:00 - 12:30 PM (1h 30')
Session 2: A.I. solutions fostering transport decisions – presentations and panel discussion

11:00 – 11:15 AM: David Scott - Director Network & Asset Intelligence Roads and Maritime Services
11:15 – 11:30 PM: Ian Greager - Principal Manager, Sydney Trains
11:30 – 11:45 PM: Christian Porter - Group Executive GM, Corporate Strategy, Downer Group
11:45 – 12:00 PM: Paul Rybicki - Country head Director DSpark Australia, DSpark
12:00 – 12:15 PM: Jennifer Loake – Partner Development Manager, TomTom
12:15 – 12:30 PM: Peter Kerney – Enterprise Solution Architect at Intel Australia

12:30 - 13:30 PM: Lunch break
13:00 - 14:00 PM: Data Arena demonstrations and UTS tour.
Location:
Aerial UTS Function Centre
15 Broadway 9
#Building 10, Level 7
Ultimo, NSW 2007
This Event is Sponsored by Intel Corporation