Short brief
Researchers in the Future Transport Mobility group of a newly created data science institute in UTS are working collaboratively with Singaporean universities to evaluate the impact of traffic accidents on traffic congestion by using data-driven techniques and traffic simulation modelling.
Context
Traffic incidents are among the primary concerns of all transport management authorities around the world due to their significant impact on the traffic congestion and delay, air/noise pollution and high traffic management costs. While recurrent road congestion can be observed in regular time and space, non-recurrent (occasional) congestion due to traffic accidents usually occur in random locations and at various time-intervals. Traffic incidents can appear in various forms (e.g. road accidents or public transport disruptions), with different severity levels, and are responsible for most traffic delays in urban networks.
The idea of this project originated during an Australia-Singapore joint R&D workshop held in May 2017, supported by the Australia-Singapore Comprehensive Strategic Partnership. The workshop revealed key issues encountered by both countries when dealing with traffic disruptions caused by influential incidents occurring especially during peak hours. For example, many records of past incidents and their accompanying response plans are archived with information still largely unexploited in both countries. Traffic Management Centres (TMCs) in Australia currently have no default response plans that are informed by learning from past incidents to mitigate newly arising incidents, nor the capability to visualise a response plan's impact on the overall/local traffic network. Similarly, the Land Transport Authority (LTA) in Singapore finds it extremely difficult to analyse the impact of various traffic disruptions on the existing traffic networks, due to the management and delivery of tightly scheduled, highly efficient and punctual public transport services. Given these facts, this joint research initiative aims to provide solutions to tackle the above issues.
Aims
This project aims to address incident analysis and management in complex and multi-modal traffic networks by combining multidisciplinary research efforts from transportation engineering and data science. The intended outcomes will be an innovative incident analysis and management framework synergising traffic data analytics and traffic simulation modelling as well as its key enabling techniques and prototype systems. The overarching aim of this research is to facilitate traffic operators to generate appropriate response plans which can mitigate the impact of incidents in a time-efficient and cost-effective way. This would greatly help traffic management authorities such as TMCs in Australia and the LTA in Singapore to make effective and reliable decisions, leading to significantly enhanced liveability for citizens in terms of improved daily movement in the city and ease of congestion.
This project will establish an international and unique collaboration between multi-disciplinary experts to tackle key challenges related to incident management in complex and multi-modal traffic networks.
Applying data science for incident impact analysis
The following innovative approaches will be designed, developed and used as key enabling techniques combining data science and transport modelling:
Advanced machine learning techniques for incident detection, classification and severity prediction,
Integration of data analytics, route/mode choice modelling and behavioural analysis to allow for running impact analysis over multiple transport modes.
A data-driven traffic simulation model for testing various traffic scenarios,
An interactive multi-objective optimisation method to choose best response plan scenario.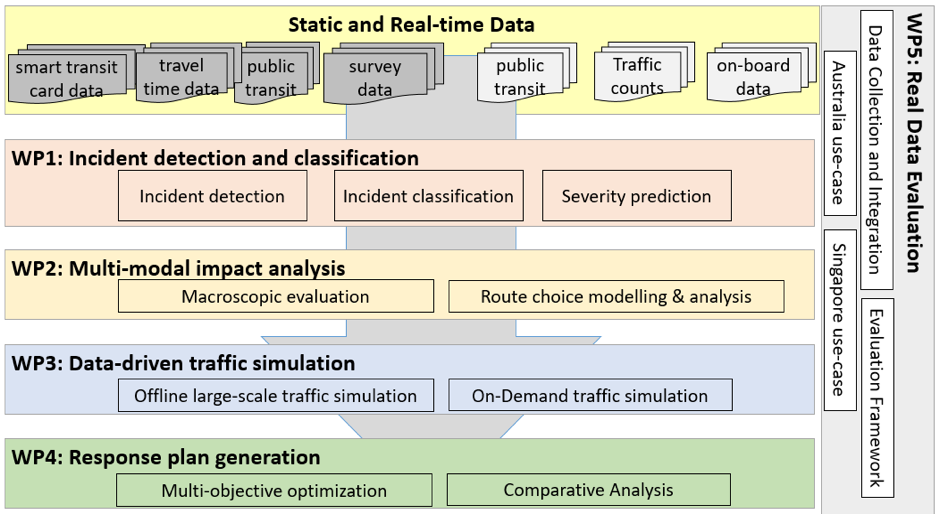 These approaches will advance the state-of-the-art of incident analysis and management in complex, dynamic and multi-modal traffic networks, putting Australia towards the world-leading research frontier in this regard.
This project aligns as well with the UTS 2027 Strategy of "Working in partnership" with external partners for solving research problems in a collaborative way. Our international collaboration with Singaporean Universities will put us in the core of modelling and addressing a very challenging real-world problem which is handling incident disruptions in a timely and optimal manner. This would lead to improving current smart city initiative and transport management strategies in both Australia and Singapore.
Researchers UTS
Dr. Adriana-Simona Mihaita, Senior Lecturer, Future Transport Mobility, FEIT, UTS.
Funded by
Australian Research Council Linkage Grant
Partner Organisations
Data61|CSIRO
Swinburne University of Technology
National University of Singapore
National Technology University of Singapore
Period
2019-2022